Commercial Foam Insulation Applications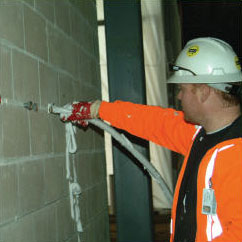 Tripolymer is a highly-efficient, economical thermal and acoustical foam-in-place insulation, well suited to
commercial insulation applications. Tripolymer's unique chemistry provides the fire resistant characteristic of phenolic
polymers as a CLASS 1 Building Material that will upgrade the fire hour rating of many wall systems.
With safety, comfort and serenity, utmost in the customer's mind, architects have specified Tripolymer in schools,
hospitals, universities, high-rise buildings, and shopping centers coast-to-coast. Tripolymer reduces energy loss,
improves sound attenuation and most importantly increases the fire safety of many types of construction. Tripolymer's
unique chemistry also meets the new environmental standards since it does not use or emit HCFC or hydrocarbons.
Commercial Applications for Tripolymer
Masonry Block / Core Fill
Sound Deadening
Pipe Chases
Correcting Fire Wall Ratings Problems
Brick Veneer / Masonry
Cluster Projects / Town Houses


Product Guide Specification


Product Specifications for Injected Foam Insulation.
Click here